Spring Break During The Pandemic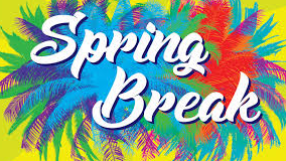 I know, I know!  With all that's been happening, the last thing we need is to have our spring break ruined.  But that doesn't have to be the case.  This year, we will simply just have to adapt the way we spend it.  Even though you might have been looking forward to a getaway in Florida, there are still many things you can do right here in Wayne.
Opportunities 
Try to think of this socially distanced spring break as a gain rather than a loss.  Take this time as an opportunity to do all of those things that you never had the time for, or maybe just take some time to focus on your mental wellness if you need it.  
In all of the chaos of this past year, everyone has still been surprisingly productive and busy.  Even if you may have been at home, you may not have had free time to spend with your loved ones.  For spring break you will be given a whole week off! Be sure to include one or two days of family fun.  This can be many things ranging from a movie night to taking a walk together.  If you're looking for some fun try a family game night, or outdoor activities.
On the other hand, you could make this a week all about you!  If you were looking to take some time for yourself, spring break is the perfect opportunity.  Feel free to kick back and do things your own way.  Have a spa day, or why not a whole spa week!  There is no right and wrong here; you just need to do what makes you happy.  A great way to stay busy might be starting a new hobby.  Explore your interests until you find one that's right for you.  If you have the time, try multiple. 
In all this excitement and relaxation, don't forget to be productive.  Although self care is important, there are still other things that have to be done.  Participating in a spring cleaning or reorganization is something we could all use.  All of those things on your to-do list that you never get to- this might be the time to do them.
Staycation
Who says you can't have the same vacation experience at home?  Don't have a pool in your backyard? Head down to a public pool, or to the beach.  The same tan can be achieved right here in New Jersey.  Be sure to make some tropical smoothies and anything else you please.  Make it feel like you are somewhere else.  Staycation can be the best vacation of your life because you get to design it!  
If you are more of a nature lover then go for an adventure.  Camp the nights away in any location you please, and get some fresh air.  There are so many things you can do to enjoy nature; go for a hike, or fishing.  Even if all you want is an adventure, all you have to do is head out and find it.  Just because you can't fly away to a resort, it doesn't mean that there aren't things you haven't discovered here.  Have as much fun as you possibly can!
So, the moral of the story is to enjoy your spring break.  Make the best of what you have.  It may not seem like a lot, or maybe you just haven't seen it all.  The important thing is to stay safe during these troubled times.  Remember to wear masks and to stay socially distanced.  If you plan on spending your spring break in a group, be sure that everyone is healthy.