Will You Be Back In The Stands?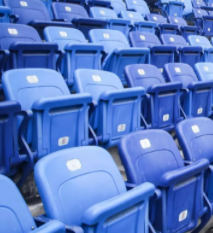 In the past month, both New Jersey Governor Phil Murphy and New York Governor Andrew Cuomo announced that fans will be allowed back into sports arenas and stadiums for the first time since the start of the COVID-19 pandemic. Aside from a few Buffalo Bills home playoff games, February 23rd marked the set date for New York arenas and stadiums to finally open at a limited capacity. New Jersey started on March 1st. Both Governors have listed detailed plans of guidelines the stadiums and/or arenas as well as fans must follow.
Other states have already had fans present for quite some time now: most NFL open-air stadiums have opened (the Super Bowl had around 25,000 fans in Tampa, FL) some NBA teams have started to open up their arenas (the percentage in allowance differs between each organization), and currently, spring training games in Florida have recently started to open up ballparks. Most of the sports organizations not limited to New York and New Jersey have suffered tremendous financial losses. By slowly increasing attendance levels, organizations are looking to make back what they had lost. 
Governor Cuomo stated that only up to 10% capacity may be in attendance. Venues that have at least 10,000 seats or more must submit a plan for reopening which has to be approved by the state department of health. In order to actually attend, fans must show a negative COVID-19 test that was taken within seventy-two hours prior to the event, masks must be worn at all times, and audience members must sit in their designated seat and follow all social distancing guidelines. The CDC stated that "wearing tightly fitted masks and layering a cloth mask on top of a surgical mask can reduce the risk of transmission by 95.5%." The Barclays Center, Madison Square Garden, Yankee Stadium, Citi Field, and Buffalo Stadium are some of the more well-known venues that plan on opening up for their seasons. 
Governor Murphy followed suit a few weeks after Cuomo announced his plan with similar guidelines. The only major difference here is that arenas/stadiums with at least a 5,000 capacity are eligible for reopening. Indoor facilities are allowed 10% while outdoor stadiums are allowed up to 15% of fans in attendance. Colleges are also included. Metlife Stadium, Red Bull Arena, and the Prudential Center are some of the more recognizable names that will be reopening. 
Organizations such as the Brooklyn Nets have only given season ticket holders access to any available tickets. But they are not cheap. Evan Roberts, a radio host on WFAN, spoke about how he was contacted by the Nets ticketing department claiming that tickets were around $600 per game. Some disapprove of the increase in pricing and the unfairness of the act. A majority of those polled from Wayne Valley agree that while organizations have the right to raise prices, they should not be taking advantage of the consumer. 
Over the last year, watching sports has been anything but normal. The environment of the games was lost when you could not hear the roaring crowd or the boos towards the opposition, and the fake noise that was placed on the broadcast feed lacked authenticity. Slowly and safely we will be back. Of the students polled from Wayne Valley, 47.6% believe that the governors are doing the right thing in setting regulations for in-person attendance. If those lucky enough to get back to seeing games live and in person follow all guidelines set by the CDC, the state, and the arena, then theoretically there should be no issues. Most have come to the consensus that "if it can be done safely, it should be done." So, will you be back in the stands?