The COVID-19 Vaccine – Everything You Need To Know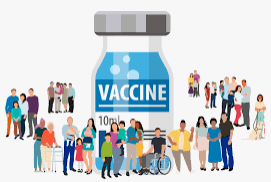 The COVID-19 Vaccine Overview 
The first COVID-19 vaccine given in the United States was in early December. Since then, over 75 million doses have been administered, out of the over 96 million doses distributed. There are two and soon to be three vaccines in circulation: Moderna, Pfizer, and Johnson and Johnson. Moderna and Pfizer are both two-dose shots: if you receive Moderna, you must wait four weeks before receiving your second dose, and for Pfizer, it is only three. As COVID-19 variants have proven to be more contagious, both Pfizer and Moderna have just started working on booster shots. While, as of now, these shots have shown to work against the variants, the goal is to "bolster" the level of protection. The Johnson and Johnson vaccine has been approved for emergency use by the FDA and is only one shot. By the end of March, J&J states that "The Company has begun shipping its COVID-19 vaccine and expects to deliver enough single-shot vaccines…to enable the full vaccination of more than 20 million people in the US." There have undoubtedly been supply shortages forcing the limits on appointments for those looking to receive their shot(s); however, with Johnson and Johnson in the mix, there is a third option. The more options, the better. 
States are racing to get their population fully vaccinated. In the United States as a whole, only 15% of the population has received their first dose, and 7.5% have gotten their second, as reported by NPR. The state with the highest percentage as of March 1st, 2021 is Alaska, with 22.8% with their first dose and 13.4% with their second. New York sits towards the bottom of the list with a mere 13.9% who have gotten their first and 7.4% their second. New Jersey is just about in the top half of all states with 15.4% with their first shot and 7.8% their second. To see more of NPR's graphic and updated statistics use this link: https://www.npr.org/sections/health-shots/2021/01/28/960901166/how-is-the-covid-19-vaccination-campaign-going-in-your-state
Wayne and The COVID-19 Vaccine
Wayne has seen a significant decrease in the amount of positive COVID-19 cases. 514 residents tested positive in February, compared to over 1,000 in January. 
Wayne has been administering the Moderna vaccine and as of February 25th 2021, 2,000 residents have been vaccinated. The town has only been receiving three-hundred doses per week out of the 2,500 requested. Mayor Vergano has high hopes "that after the approval of the J&J vaccine that our allotment will increase." With a town population of over 30,000 residents, at the rate of 300 doses per week it would take about two years to fully vaccinate everybody. While Wayne does have an efficient system, being one of fourteen towns in New Jersey to be running their own vaccination center, there are just not enough doses. The old Macy's by Stop in Shop has been used as the town's site to administer the doses. Recipients normally do not spend more than half an hour in the facility. With the help of volunteers, most of whom are school nurses, those lucky enough to receive an appointment should have no issues when receiving the vaccine. 
As for trying to find one of these scarce appointments, Mayor Vergano suggests "going to our website (www.waynetownship.com) a few minutes early and keep refreshing…Thousands of people are trying to get one of the appointments at the same time." Appointments open on Fridays at 3:00 pm. For more information regarding Wayne's Vaccine distribution and appointments go to https://waynetownship.com/covid-19-vaccine.html.
With the district finally getting back into hybrid learning models after months of being fully remote, there has been little priority for our teachers. The town had no control over this, as vaccine eligibility guidelines are set by the state. However, on March 1st Governor Murphy announced an expansion to those that are now eligible for their vaccine shots starting March 15th and the 29th. 
Those now eligible starting on March 15th include:
Pre-K through 12th grade teachers and education staff members

Child care workers in licensed and registered settings

Motor Vehicle Commission workers

NJ Transit workers and other transportation workers

Public and local transportation workers, including bus, taxi, rideshare and airport employees

All public safety personnel who have not already been made eligible such as probation officers, child protective service workers.

Members of tribal communities

Migrant farmworkers

People who are homeless and people living in homeless shelters or domestic violence shelters
Those now eligible starting on March 29th include:
Front line workers in the restaurant

Front line workers in the food processing and distribution industries

Grocery personnel

Warehouse workers

Remaining eldercare workers

Hospitality workers

Clergy

Postal and other shipping employees

Judicial System employees
To go with more on the eligibility list, Murphy has some high goals. The state's goal is to vaccinate 70% of its adult population, which is about 4.7 million people, within the next month. This is only made possible with the addition of the Johnson and Johnson vaccine that provided New Jersey with an initial shipment of 73,600 doses. Governor Murphy stated in a recent press release that "Given the expectations of increased weekly shipments of vaccines as the month progresses, and especially as we head into April, we are confident in announcing this broadening of eligibilities now so that those who fall into these categories can know when they can step up to the plate."
What One Should Expect When Receiving Their Vaccine
Of those who have received their vaccine, the conscious is that you must be vigilant. Even though appointments are booked fast, and sometimes you might be on hold for a while, you must continue to look. In addition to Wayne's vaccination center there are others to look into as well. There are megasites that have more vaccines available to them, which means more appointments. 
As for side-effects, most have reported more after their second vaccination when compared to their first. Expect to really only feel soreness in the injection site after the first dose. However the second dose causes more symptoms for most individuals. Some of the more common side effects include: swelling or soreness at the injection site, fatigue/weakness for about two days, and sometimes a fever. Yet of those who have received both shots, they claim that "it was definitely worth it!" Remember that getting the vaccine does not mean that you are exempt from following all COVID-19 guidelines and mandates: stay vigilant and wear your masks!
CDC Guidelines For After You Are FULLY Vaccinated
On March 8th, the CDC released new guidelines for those who are fully vaccinated. Studies have shown that those vaccinated are at a lower risk of having an asymptomatic infection or transmitting the virus. The CDC is still investigating how long the vaccines' protection will last and how well they can fight against the arising variants.
Fully vaccinated people can:
Visit with other fully vaccinated people indoors without wearing masks or physical distancing.

Visit with unvaccinated people from a single household who are at low risk for severe COVID-19 disease indoors without wearing masks or physical distancing.

Refrain from quarantine and testing following a known exposure if asymptomatic
For now, fully vaccinated people should continue to:
Take precautions in public like wearing a well-fitted mask and physical distancing.

Wear masks, practice physical distancing, and adhere to other prevention measures when visiting with unvaccinated people who are at

increased risk for severe COVID-19

disease or who have an unvaccinated household member who is at increased risk for severe COVID-19 disease

Wear masks, maintain physical distance, and practice other prevention measures when visiting with unvaccinated people from multiple households

Avoid medium- and large-sized in-person gatherings.

Get tested if experiencing

COVID-19 symptoms

.

Follow guidance issued by individual employers.

Follow CDC and health department travel requirements and recommendations.
It is important for those who are vaccinated to be mindful when a part of in-person gatherings since even though their risk of contracting COVID-19 is significantly reduced, there is still the possibility of transmitting COVID to others. The CDC states that "Fully vaccinated people should not visit or attend a gathering if they have tested positive for COVID-19 in the prior 10 days or are experiencing COVID-19 symptoms, regardless of vaccination status of the other people at the gathering." 
Precautions taken at gatherings between vaccinated individuals and others (vaccinated, unvaccinated low-risk, or unvaccinated high-risk individuals) will vary. The CDC created a chart as a guide to help you determine where your situation stands: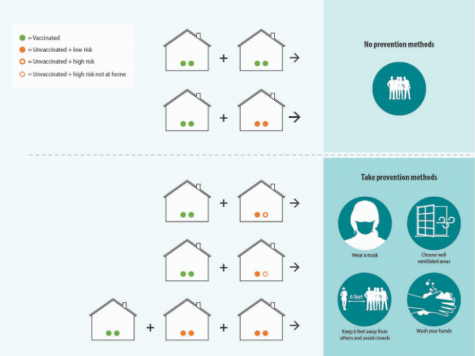 The CDC will be updating these guidelines as more individuals continue to be vaccinated and as more studies show uplifting results. For more information about specific precautions and recommendations, visit: https://www.cdc.gov/coronavirus/2019-ncov/vaccines/fully-vaccinated-guidance.html