NHS UPDATE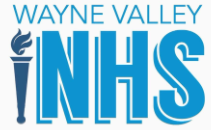 The National Honor Society (NHS) is an organization that helps to elevate community engagement and academic leadership. Different chapters at various schools look to engage in acts of service in order to help further the well-being of the community. Here at Wayne Valley, we have the same goal. While this has been a tough year to go out and do community service, there are still plenty of opportunities to help out and get credits. 
One credit opportunity is Kids Helping Kids–the chapter's tutoring program. Tutoring can be done in person at the Wayne Public Library, or virtually through Google Meet.
Another popular credit opportunity is creating Media Center projects with Mrs. Bardi. Whether reviewing books in our school library or recording step-by-step videos on how to use certain websites, this is a great way to help inform people who are not familiar with Wayne Valley's library.
There have also been countless food drives and toiletry drives organized by the chapter that are all going to great causes. One of the most recent being the Women's Shelter Toiletry Drive. 
The National Honor Society students have been participating in many amazing acts of service and have been doing great things all year long. The Wayne Valley chapter will continue to do great things as the year progresses and more service opportunities are announced.