AP Testing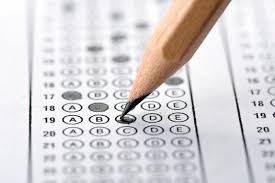 At Wayne Valley High School on May 1st, AP students began AP testing, and continued this testing for approximately two weeks. AP testing included all of the four main subjects, such as math, science, history, and English. There are many standardized AP classes with tests, ranging from the core subjects to other more obscure ones. Testing will be taken throughout the school days in the library. Each test is approximately 2 hours, but can even reach 2 ½-3 hours.
Students came into the building at 7 o'clock to begin their testing. The month before testing commenced, all students were reviewing and studying in and out of class for their tests. Jill Cetrulo, a senior at Wayne Valley High School who has taken AP Physics 2, United States History, Calculus AB, and Statistics AP tests, stated, "I like that the exams are so early because most of my classes are over now."
During the testing, students were in the library for hours at a time. During these two weeks multiple AP exams would have been taken in a variety of different fields. Alyssa, a Junior at Wayne Valley High School who took the Environmental Science AP exam, stated, "Last Monday I took the Environmental Science AP test. I felt tired when we took it at 7 AM. We were very prepared and the test was long. It's better to know that we don't have finals because the rest of the year is more relaxed."
The long hours of testing for the students would take up most of their days. Afterwards, they would return to class to finish the day in their regularly scheduled classes. However, most of the students seemed to show excitement when the week came to an end. Zach Valenzuela, who is also a senior at Wayne Valley and has taken AP US Government and Politics and Biology AP tests, has stated that "classes are easy after testing. It's better because we can relax. The exams are hard, but they are rewarding." Zach Valenzuela was just one of many to have felt a sense of relief after their week was over. Joseph, the captain of the football team, took the AP US government and politics test last week on Tuesday. He stated "I was pretty confident. It doesn't affect me much and in my opinion it's just a test. It doesn't matter if it was taken earlier or not. After testing we have a project where we act as a president. My class is going to be more relaxed."
The tests are taken in May instead of in June with the other finals because the seniors need to have their results before they leave for college. They need their grades before the beginning of their college semester so that they can possibly use the credits from the test for college and change their schedule accordingly.