Disney's 50th Anniversary Celebration
January 11, 2023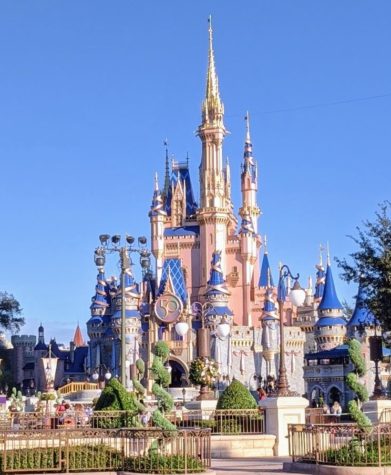 Walt Disney World's parks are changing up their color scheme for the 50th Anniversary – Magic Kingdom, Animal Kingdom, & Epcot. Disney World in Orlando, Florida, is currently celebrating its 50th anniversary. This magical celebration will last from October 1st, 2022, to March 31st, 2023. The three main parks will be changing up their looks in honor of the party. The colors representing this celebration are rose gold, green, blue, and gold. 
Disney's Magic Kingdom is like a whole new world. The colors & lights of Cinderella's Castle have been redone. The castle greets you right when you walk through the gates and it has been said that pixie dust shimmers on the castle. Walt Disney's characters, such as Mickey and Minnie, also got a makeover–heir outfits were changed to match the new color scheme! Mickey's Magical Friendship Faire has been changed, too. The celebration even has its own theme song; "Magic is Calling," sung by Journi. Disney's Contemporary Hotel, which is right next to Magic Kingdom, has its own light show that you can watch outside of your hotel room! Magic Kingdom is represented by the color rose gold.
While there are no major changes in Hollywood Studios for Disney's 50th anniversary, there is still much fun to be had there. There have been a few changes regarding the Hollywood Tower Hotel, or the Twilight Zone attraction–the lights. In the shops in Hollywood, there is some merchandise for the celebration you can buy. Once the anniversary is over, merchandise may be hard to find, or pricey. The color that represents Hollywood Studios is gold.
Represented by the color green, Animal Kingdom has also brought back a few things. The puppet show has returned, along with a few added details like lights and merchandise. There were light shows around the park and the Tree of Life got an upgrade, it was like fireflies were dancing around the tree. 
Epcot's menu has changed for the anniversary. Some restaurants brought back old dishes from the past for the guests to take a trip down memory lane. The long-awaited Harmonious premiered at Epcot is a parade that includes huge floating set pieces, custom-built LED panels, choreographed moving fountains, lights, pyrotechnics, lasers, and more. This show occurred when the anniversary celebration started on October 1st, 2022, and will make its return for the Walt Disney Company's 100th anniversary in late 2023. The color that represents Epcot is blue.