Wayne Valley Continues Wellness Journey
November 11, 2022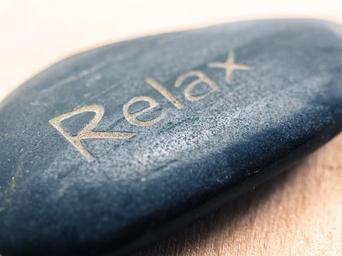 The staff at Wayne Valley have decided to start implementing more wellness programs and activities. From the administration to the teachers to the counselors, everyone's goal is to promote emotional health through the student body. The teachers and counselors are working with the administration on things like a zen garden, a relaxation room, and many more things to come in the future.
With everything that has gone on in the past few years, students and staff feel that it is important to help our students. The signs of struggling students can become noticeable to peers and teachers. "Yes, I can usually notice that there's some signs of students overcoming or currently handling a challenge. Sometimes they're a little bit more withheld. Well probably not withheld, more withdrawn. They tend to be a little quieter, sullen," explained guidance counselor Mr. Cheval.
At Wayne Valley High School, there are many resources available to students who are looking for a way to relax or even let loose. Cheval explains, "We have just lined up with a place called TriCalty, therapy services, in which we have a licensed professional counselor that comes in three times a week to Wayne Valley and they work with students, so it's almost like going to your own therapist but within school. We also have a student assistance coordinator (SAC) counselor, Mrs. Mapp. She's available to students to talk about mental health and any other challenges. There are seven counselors here now in the guidance department and we have four people on the child study team, which is another resource."
During the course of Mental Health awareness, Wayne Valley was given a grant in order to support those struggling. "That is called Team Mental Health First Aid, we were given a grant to do this program. Right now the people that are teaching it are Mrs.Montana, Mr.Paul, Mr.Imperatore, and myself (Mr.Cheval). We're gonna be teaching the class, so we'll be going into sophomores or juniors and teaching the program during their health,." explains Mr. Cheval. The Team Mental Health First Aid program is an amazing resource given to WV.
There are other ways the school is promoting wellness and a healthy mental environment. For example, new spaces are being designed to help students. "The zen garden is a nice outdoors option. People like fresh air and they like to get outside," guidance counselor Mrs. Feinberg said. The zen garden started around mid-September. They took out grass and put some rocks in. They have a sand zen garden in the middle. It's a nice little space for students to relax during a free period. 
"We wanted to offer a space for the kids to use that has a relaxing feel," said Mr. Wisniewski when asked about the garden. He and our principal, Mr. Palczewski, both came up with the idea of the garden and worked together to help it become a reality. He stated that the garden came out just as he envisioned it, and wouldn't change a thing about it if he could. "We plan to expand and add some new things… possibly a water fountain," commented Wisniewski. He explained how this is just the beginning of the zen garden, and there are plans being created for what will be added in the near future.
Guidance counselor Feinberg spoke about another new space which will be alternative for detention, a meditation room. "At the old elementary school I worked at, they had that option for students," Feinberg stated. "It's like restorative justice." Students at the school would go into a room and learn about ways to stop this behavior for themselves and others. For example, if two students got into a fight at recess, they would go and learn about ways to teach other kids how to set an example. 
In addition, Feinberg explained how they have a wellness fair every year for students. Clubs have booths with coloring, informational resources with topics on mental health, and much more. "It gets a lot of traffic from the students," she reported. The main focus of the fair is to see what students want to see more of in the future. It's nice for students to have a say in things the school does to keep them interested. 
One successful program that keeps growing is the implementation of therapy dogs. Around 5 years ago, Ms. Olson (a former guidance counselor at Wayne Valley) introduced a therapy dog program to the high school to help students deal with stress during AP exams. Since then, the program was passed on to Mr. Cheval in 2019 and has improved as the years go by. Instead of the dogs coming only during AP exams, they now come around once every two weeks and have helped many students find something to look forward to when going to school. To Mr. Cheval, the overall goal of this project is to make sure there are plenty of "…options within the school for wellness, to provide support for students, and to have something for the students to look forward to." He's happy to report that there has been improvement in students' communication skills and that many students have found something to motivate them. Wayne Valley is partnered with "Bright and Beautiful", a program that trains therapy dogs and their owners. One of the guidance counselors, Mr. Imperatore, got his dog named Molly certified through this program about a year and a half ago. In order to become certified, Molly had to pass a test through "Bright and Beautiful" to see how she reacts to people and certain situations. Molly comes to visit Wayne Valley during Therapy Dog days. As the years have passed, the program has gotten even larger, spreading to other schools besides Wayne Valley. This includes Wayne Hills and some of the elementary and middle schools. Although it is difficult at times with the dogs' schedules, they try to visit based on a specific schedule that is set up.
Overall, the Wayne Valley staff has allowed students to express themselves and their emotions. Depending on what a student is going through at home, it's a great way for them to get away from it all. Feinberg, along with all the other counselors, explains that she wants her office to be "a safe space for everyone." Students can also visit different counselors and the therapist who comes to school every once in a while to help students when their counselors can't. It's a great option for students because not everyone gets the full picture of what goes on.