Sit With Me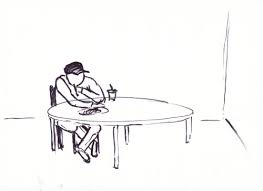 Hang on for a minute...we're trying to find some more stories you might like.
High school is the place where friendships are made and is said to be some of the best years of your life. But when it comes to being seen as an outsider, how can high school be the best years? Usually it's easy to hide the absence of "friends" throughout the day as you move from class to class but once it comes time for lunch, the idea of loneliness seeks back into your subconscious and you're left alone while you watch your peers mingle with one another inside the noisy cafeteria.
Everyone is looking for a friend to sit with during the 40 minutes that are given to us to relax and ease out of the stress we might be under in our other classes. However, not everyone has the courage to go up to a group of people and ask if they can join them, resulting in many students sitting alone or going to other places to eat their lunch. When asked, students at Wayne Valley took a survey in relation to this new app called Sit with Me.
Sit with Me was invented by Natalie Hampton, a 16 year old from Sherman Oaks, California. Hampton created the app to help students find a welcoming group of people to sit with during lunch. Her idea to make this app came from past experiences of being bullied at her old school because she was seen eating lunch alone. Hampton wanted to ensure that no student had to endure what she did during school and especially at lunch. The Sit with Me app was launched on September 9, 2016 and has had major impact on students everywhere ever since.
A total of 30 students ranging from freshman to seniors were asked to answer a short 5 question survey about the app and what they personally feel they would do if they saw a fellow peer sitting alone during lunch. Depending on the grade level the answers seemed to change slightly but many agree that this app can be beneficial to students who have a tough time finding somewhere to sit during lunch. One of the question students were asked to answer was, if they saw someone sitting alone, what would they do. For the freshman all 6 students said they would invite the person to join them and their friends. The sophomores had 7 out of 8 students say they would invite the person to join them and their friends. The juniors along with the seniors also had 7 out of 8 students respond saying, if they saw someone sitting alone they would invite them to join themselves and their friends. The questions continued to range from, if they would personally use the app to what they feel is the best way to approach someone who is sitting alone. While the results ranged based on the grades, overall everyone believes that sitting alone is not something that anyone should have to endure.